Accu-Tech / Corning Branch Days!
Corning Branch Days, coming to a Branch near you!
Drop in, meet your local Corning representative, hear the latest technology updates from the experts and take advantage of some sweet offers. We're here to make sure you have the right products at the right time to service your customers faster and more efficiently!
And check out the event promotion:
Purchase $3,500 or more in Corning products and receive a FREE Yeti® Tundra 45 (Limit 1 per company)! Click below for details.
---
Fiber Optic Connector Solutions and Testing Seminar
Hosted by Accu-Tech Denver
Tuesday, May 19, 2015
Please join us for a FREE Fiber Optic Connector Solutions and Testing seminar. This interactive 6-hour session will provide attendees with a comprehensive overview of the latest fiber optic termination and testing technologies. This hands-on training will allow attendees to work with Corning's fiber optic connector termination kits and Fluke Network's latest fiber optic test equipment. All attendees are eligible for 3 BICSI Credits.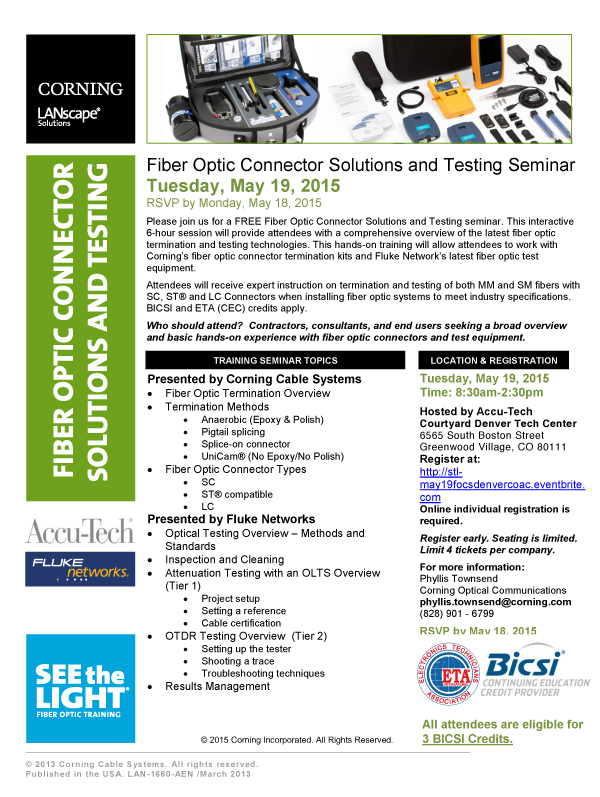 ---
Contractor Focused Training Events

2015 Corning See the Light National Webinar Event Series
---

Live Webinar Series
Data Center

May 7, 2015

11:00 AM - 12:00 PM CT

Designing Flexibility and Scalability into Network

Cabling Systems (1 BICSI CEC)

Register Now
Enterprise

May 21, 2015

1:00 PM - 2:00 PM CT

Understanding Your Options for 40G/100G

Migration (1 BICSI CEC)

Register Now
Industrial Automation




May 15, 2015

12:00 PM - 1:00 PM CT

Properly Implementing an Industrial Grounding

and Bonding Infrastructure (1 BICSI CEC)

Register Now
Software

May 28, 2015

2:00 PM - 3:00 PM CT

Zone Approach for IT Infrastructure Management
Register Now
---
Berk-Tek
Recorded Webinars
Speakers include:
Bob Hertling, RCDD, OSP, Parsons Engineering and BICSI TI&M Vice Chair -- Update on Publications & Manuals

Todd Taylor, RCDD, OSP, NTS Director of Low Voltage/IT Design for Enfinity Engineering, LLC and Chair of BICSI's Standards' Committee -- Update on Standards Development

Gail Moore-Swaby, BICSI VP of Professional Development, BICSI -- Update on Professional Development & Training



Topics discussed:
BICSI's role in our industry

Credentialing update

Update on BICSI publications, manuals and standards

Update on professional development and training





Perform Beyond Expectations using BICSI products. View the recorded webinar today.
Berk-Tek Webinar: 40G Infrastructure Secrets


Who: Mike Connaughton, Manager, Data center Market

What - 40G Infrastructure Secrets Webcast
The presentation will cover:
· Market trends leading to the need for 40G
· Impact of 40G on Data Center Architectures, including Top of Rack and End of Row run distances
· Infrastructure options to address needed speeds
· Cost implications of these options
· IEEE Power budget requirements for 40G
· Presentation of DCCC Link Loss research and modeling
· Launch of Link Loss Calculator
· Option for greatest flexibility & performance (GIGAlite-10XB)
· Option to maximize rack &pathway space (MDP)
Berk-Tek Webinar: The Need for Extreme Wireless Speed


With wireless traffic doubling on an annual basis, BYOD becoming more accepted, and the acceleration in application growth and bandwidth consumption, the demand and benefits for faster wireless networking technology is quickly becoming realized.
The Berk-Tek Webinar: The Need for Extreme Wireless Speed will explain the applications driving the rapidly growing need for higher speed Wireless LANs and more. Plus, we'll discuss all that you'll need to do to prepare for the evolution of wireless LANs. Details to be discussed include:
Impact of the "Internet of Things" on Wireless LAN networks
New wireless applications in medicine, enterprise, education, and manufacturing
Wireless standards evolution
Deploying the wired network to manage the support of wireless using

Traditional topology and deployment
Direct Attach: AP versus typical cell deployment
Link Aggregation: Increasing capacity to manage the flood
Now you can access the recorded event at any time. Click here to view.
Berk-Tek Webinar: Achieving Maximum Performance for Voice, Data & Power in the Real World
As more devices and applications join the IP world, dBs alone are no longer the best measure of network performance.
Network performance metrics must now use application-specific tests and measures to ensure that ALL the services being provided are well delivered.
The Berk-Tek Webinar: Achieving Maximum Performance for Voice, Data & Power in the Real World will explain what these measures are and why they are significant for your network. Details to be discussed include:
Impact of PoE on network performance
MOS as a VoIP performance metric
Frame Error Rate vs. Bit Error Rate testing
MLR as a Video performance metric