Whether you need formal training or are simply looking to grow your knowledge base, Corning's See the Light® fiber optic training hosted by Accu-Tech offers something for everyone and every schedule in the enterprise networks environment.
---
Calling Sacramento!
Join us with Corning at our See the Light Seminar: Accu-Tech: Data Center Fundamentals in Sacramento, June 14, 2016
June 14, 2016
Accu-Tech
830 National Drive
Suite 100
Sacramento, CA 95834
8:30 AM - 2:30 PM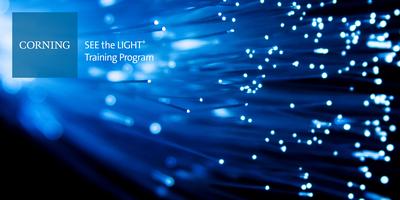 Attention Denver!
Join us with Corning at our
Accu-Tech: Data Center Fundamentals Seminar in

Denver, CO
June 21, 2016
9:30AM - 3:30PM
Cabela's
10670 Cabela Dr
Lone Tree, CO 80124
Heading to Minneapolis!
Join us with Corning at our See the Light Seminar: Accu-Tech Fiber Optic Connector Solutions in Minneapolis, MN June 28, 2016
Hosted by Accu-Tech
9775 85th Ave N
Maple Grove, MN 55369
RSVP by June 27, 2016


---

Join us for Vicon's 2016 training classes, March 15-16, 2016, at the Hyatt Regency Long Island in Hayppauge, NY. Click below for more details, and to register.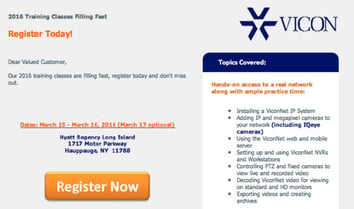 ---

Live Webinar Series
Wednesday, June 1, 2016 - 1:00pm ET - NOON CT

Out of sight, out of mind: That's the attitude many people have about their structured cabling. This webinar highlights the importance of building a robust physical layer to support the healthcare technology that allows companies to attract top talent, improve patient experience, and reduce cost to serve.

• Identify performance category recommendations for wireless deployment
• Use cable management strategies for high density Telco Room applications
• List considerations for Power over Ethernet (PoE) usage

Featured Speaker: Lindsey Kuhlmann, Business Development Manager, Panduit
---


4 Simple Tips to Make Your Life Easier
You've made it through the first few weeks of a busy construction season. But it's not over yet, so take a short break and attend this presentation for some tips to make the next couple of months a little easier.
Introducing the Berk-Tek Webinar: Contractor Survival Guide: 4 Simple Tips to Make Your Life Easier where, in just 30 minutes, you'll learn:
A few ways to save time and money on installation
How to use TEK Support at Berk-Tek to get your questions answered
How to find a contractor program that best meets your needs
Easy tips for planning and staying organized
WHEN: June 9, 2016, at 11:00 a.m. EST
Register: Reserve your space at this Webinar to learn tips to make your life easier during the busy construction season.
Webinar Details
June 9, 2016
11:00 am EST
Register Now!
Our Speaker:
Kelly Urbanik
Contractor Programs Manager
For recorded webinars, click here.

Webinar Series
Each course is designed to give attendees a better understanding of how Surge Protective Devices (SPD's) work, and how critical their use is on electronic security and life safety equipment.
DATE: Tuesdays and Thursdays, starting April 12, 2016
TIME: 9:30 AM EST (6:30 AM PST) & 11:30 AM EST (8:30 AM PST)
LENGTH: 30 minutes plus Q & A session
PLACE: Online Training vía GotoWebinar
Check back for more dates soon!