Join Corning and Fluke Networks for a FREE Fiber Optic Connector Solutions and Testing seminar. This interactive 6-hour session will provide attendees with a comprehensive overview of the latest fiber optic termination and testing technologies. This hands-on training will allow attendees to work with Corning's fiber optic connector termination kits and Fluke Network's latest fiber optic test equipment. All attendees are eligible for 3 BICSI Credits.
Atlanta, Georgia

October 20th, 2015
Did you miss Corning's Surviving Outside Plant Cabling Webinar? Click here to view the on-demand recording.
Did you miss Corning's Selecting Smart Solutions: Inside Plant Cabling Webinar? View now by clicking here.
---

Live Webinar Series
October 2, 2014




1:00 PM - 2:00 PM CT

Understanding Distributed Antenna Systems (DAS) for the Enterprise

Register Now

October 9, 2014




1:00 PM - 2:00 PM CT

Uninterruptible Power Supply for Industrial Automation Applications

Register Now

October 17, 2014




1:00 PM - 2:00 PM CT

Understanding the TIA-942 Standard

(1 BICSI CEC)
Register Now

October 23, 2014




1:00 PM - 2:00 PM CT

Introduction to SmartZoneT Rack Energy Kits



Register Now
---
Berk-Tek
Upcoming Webinars
Hospitals and other healthcare providers face the daunting challenge of managing information. As patient records, diagnostic information, and even the operating theater increasingly rely on networked electronics, the amount of data that must be created, transmitted, managed, and stored has grown dramatically. As has the number of devices connected and powered via the healthcare facility's network infrastructure.
Join Jim Frey, Berk-Tek's Director of Marketing, as he goes over the concerns with how heat rise can degrade network performance from the next generation of Power over Ethernet (PoE). With the patient experience more important than ever, things like a fast WiFi connection can easily translate to significantly improved customer experience. Click here to register for the September 30th webcast.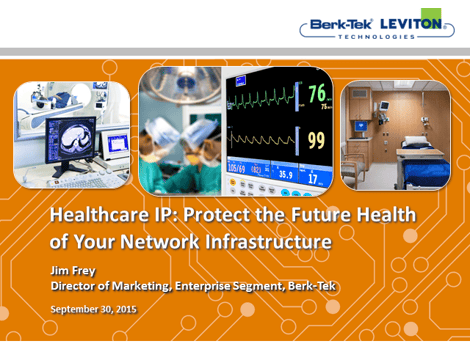 Recorded Webinars
Berk-Tek understands that the network infrastructure decisions made today can have lasting effects for decades to come. Berk-Tek and Accu-Tech are committed to keeping our customers up-to-date on the latest industry developments and advancements. Join Berk-Tek to learn about the five things you need to consider when upgrading your data center. With the help of Berk-Tek and The TEK Center, you can be sure that your next upgrade will perform beyond expectation.