Whether you need formal training or are simply looking to grow your knowledge base, Corning's See the Light® fiber optic training hosted by Accu-Tech offers something for everyone and every schedule in the enterprise networks environment.
---

Join us for Vicon's 2016 training classes, March 15-16, 2016, at the Hyatt Regency Long Island in Hayppauge, NY. Click below for more details, and to register.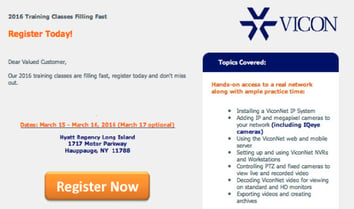 ---

Live Webinar Series
---

For recorded webinars, click here.

Webinar Series
Each course is designed to give attendees a better understanding of how Surge Protective Devices (SPD's) work, and how critical their use is on electronic security and life safety equipment.
DATE: Tuesdays and Thursdays, starting April 12, 2016
TIME: 9:30 AM EST (6:30 AM PST) & 11:30 AM EST (8:30 AM PST)
LENGTH: 30 minutes plus Q & A session
PLACE: Online Training vía GotoWebinar
Upcoming Webinars
| | | | |
| --- | --- | --- | --- |
| 4/19/16 | 9:30AM EST | Surge Protection for Fire Alarm Systems | |
| 4/19/16 | 11:30AM EST | Surge Protection for Video Surveillance Systems | |
| 4/21/16 | 9:30AM EST | Surge Protection for Video Surveillance Systems | |
| 4/21/16 | 11:30AM EST | Surge Protection for Networking & Communications | |
| 4/26/16 | 9:30AM EST | Surge Protection for Networking & Communications | |
| 4/26/16 | 11:30AM EST | Surge Protection for Access & Intrusion Systems | |
| 4/28/16 | 9:30AM EST | Surge Protection for Access & Intrusion Systems | |
| 4/28/16 | 11:30AM EST | Surge Protection for AC Power Systems | |
| 5/03/16 | 9:30AM EST | Surge Protection for AC Power Systems | |
| 5/03/16 | 11:30AM EST | Proper Installation & Grounding Procedures | |
| 5/05/16 | 9:30AM EST | Proper Installation & Grounding Procedures | |