Can your IT infrastructure stand up to the FEROCIOUS GROWTH of healthcare data requirements?
A Reliable Network is Mission Critical
Network infrastructure should seamlessly connect staff, medical equipment and patient information systems. Whether 2 p.m. or 3 a.m., patients' lives depend on that connectivity.
Industry experts say the most critical IT responsibility for health care CIOs is maintaining a robust, reliable, and secure infrastructure that:
Connects caregivers, researchers and educators so patients get the best care

Delivers more information on-demand at the point-of-care

Minimizes barriers to entry for caregivers while maintaining HIPAA compliance
and patient trust
Check out Leviton's "Taming the Beast" Free White Paper:
Learn how health care facilities can manage the daunting challenges managing information and planning for network growth.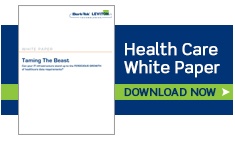 Hospitals and other health care providers increasingly rely on networked electronics to maintain data, patient records, and medical information. More than ever, health care infrastructures are burdened by exploding data storage, stringent security regulations and ever-increasing bandwidth requirements. This white paper provides:
Key insight and strategy for not only meeting today's data requirements,
but those on the evolving horizon as well

Network drivers in medical applications

Standardization for the healthcare environment

Best practices for the future
Click here for more information and to download your Free White Paper!