TE CATEGORY 6A UNSHIELDED CABLING SYSTEM FOR 10 GbE APPLICATIONS View full press release here.
New Design Requires Up To 32% Less Space; Leads High Density, High Bandwidth Evolution
TE Connectivity (TE)'s Category 6A unshielded cabling system is designed to meet the performance and density demands of 10 GbE applications. Comprised of TE's new SL Series AMP-TWIST jacks and panels, along with a reduced diameter patch cord, the system features some of the most advanced technology on the market and further strengthens TE's full-line copper cabling and connectivity portfolio.
TE's advanced SL-series modular jacks incorporate AMP-TWIST technology to deliver best-in-class termination speed, reliability, and consistency. When used in conjunction with TE's SL-series termination tool, all four twisted pairs are terminated and trimmed simultaneously in as little as one minute. The jacks also incorporate category-leading crosstalk reduction technology and interchangeable color caps for easy port identification. TE Cat 6A U/UTP panels offer 24-port 1RU and 48-port 2RU density and are available in flat, angled and dynamic-angled configurations.
The Cat 6A U/UTP system offers the world's first unshielded structured cable for 10 GbE transmission of up to 100M – ideal for accommodating today's higher processing speeds and bandwidth demand. Benefiting from TE's AirES cable and "inside-out" filler technologies, the cable is able to provide higher throughput and an increased signal-to-noise ratio in a smaller package. At approximately 0.285 inches in diameter, the cable is up to 32 percent thinner as compared to traditional Cat 6A cables, helping to save space in the communications closet, reduce the amount of cable management accessories required, and lower the risk associated with fire and smoke in the plenum space.
"The growing popularity of virtualization, IP video and larger file transmissions is driving the need for higher network performance while also necessitating higher density in data center and office LAN environments," said Brian Davis, director of product management, TE Enterprise Networks. "Our AirES enhanced cabling solution provides optimal performance, meets bandwidth demands and is scalable – ready for new technology to be added. Plus, the smaller, thinner design of the patch cord makes it an unbeatable combination of performance and agility."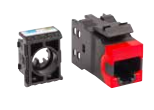 From cables to reduced-diameter patch cords, to AMP-TWIST jacks and patch panels, the new TE Cat 6A U/UTP system helps network managers achieve optimum network performance, improve airflow and cooling, and save space to better meet the demands of their business. The Cat 6A U/UTP system features:
• Superior termination with TE's Automatic Wire Cutting (AWC) technology for faster, easier, and more consistent terminations and optimal reliability
• 0.285" diameter cable and 0.235" reduced diameter patch cords, requiring up to 32% less space than traditional Cat 6A solutions
• TE's inside-out filler technology for superior internal and external electrical performance
• TE's AirES cable technology which uses air as an insulator to enhance signal speed and strength, while minimizing cable size and crosstalk
• Flat, angled or dynamic-angled patch panels in 24- and 48-port configurations
• Interchangeable color cap options for easy port identification
• Standards compliances::
ANSI/TIA-568-C Category 6A

ISO/IEC 11801 Category 6A performance requirements

UL 1863 Listed

Meets or exceeds all IEE 802.3 and 10 Gigabit Ethernet

RoHS compliant
For additional information about TE's full line of copper cabling and connectivity solutions, visit www.TE.com/EnterpriseNetworks.